Local SEO for lawyers is getting more difficult day by day as new law firms take their legal services online. Amidst the rising demand for lawyer SEO, law firm SEO agencies are making huge profits. But, unfortunately, they do so by tricking lawyers into buying their services, only to deliver disappointing results.
In this blog post, we'll explain the benefits of local SEO for law firms, how is local SEO for lawyers different and what to look for in a lawyer SEO agency.
How is Local SEO for Lawyers Different?
Local SEO is optimizing your business website to appear in local searches. When searchers include the name of their area or have their GPS turned on, Google provides local results against their search.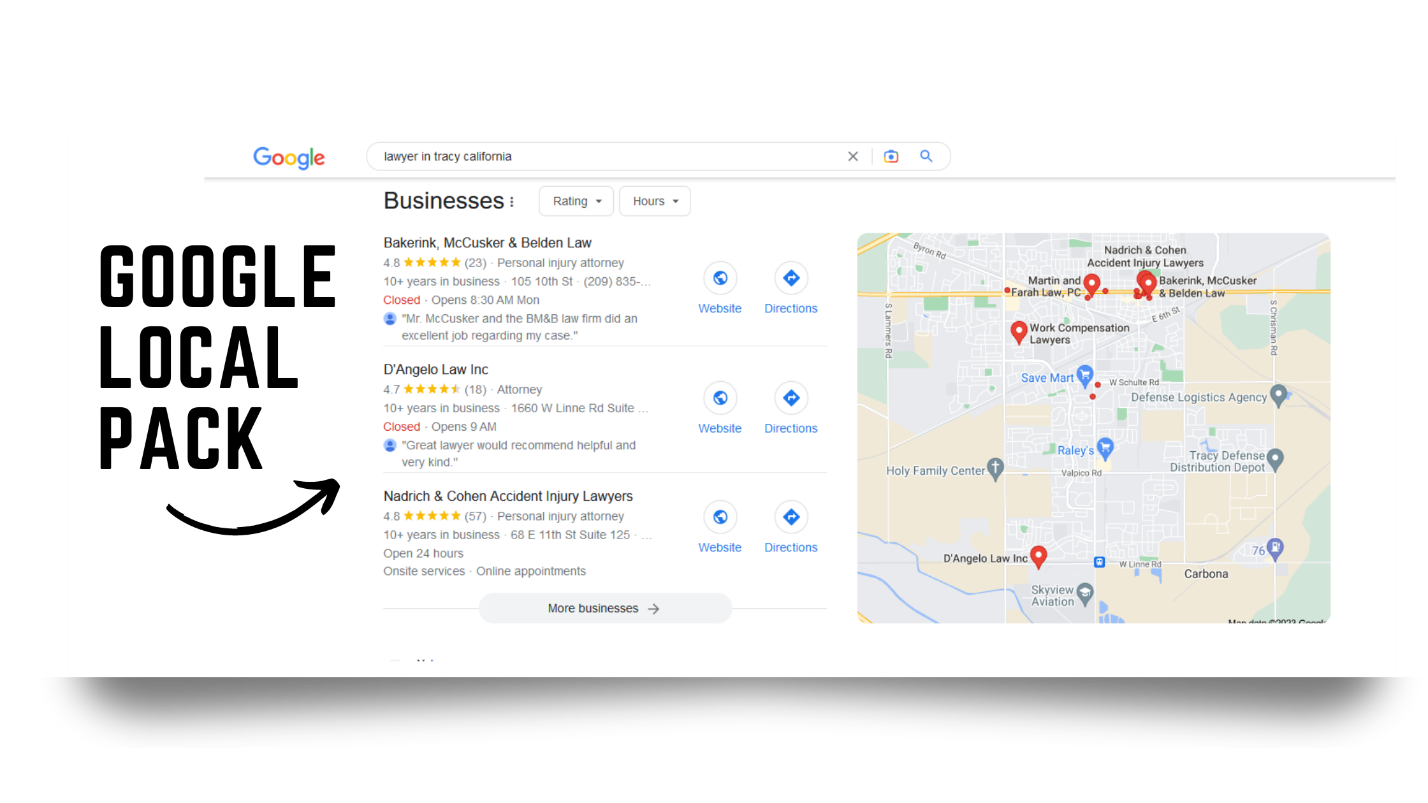 It's common for searchers to prefer nearby businesses over others because the commute is easy. And the same principle applies to Law firms. In addition, clients prefer lawyers familiar with their state laws. That's why local SEO for lawyers is gaining traction in the digital world.
However, ranking your law firm in the Google local 3 pack is slightly different than it would be for a regular business. This is because Law firms fall under the YMYL (Your Money Your Life) category. And Google strictly scrutinizes YMYL website content.
In this guide to local SEO for law firms, we have also explained what to look for in a law firm SEO agency. This is to help you prevent your legal site from being penalized by Google for misleading content.
What to Look For In a Law Firm SEO Agency
You know that law firms that rank on Google's 3-pack tend to get the most clicks. These clicks translate into more leads and more business. You also understand that lawyer SEO is highly competitive and well paying. That's why every SEO company poses as an expert law firm SEO agency.
Finding a good lawyer SEO agency is like finding a needle in a haystack. But with these tips, you can distinguish the good from the bad.
1.     Past Lawyer SEO Results Matter
This might be an obvious one, but do you know exactly what to look for in a law firm SEO agency's past clients?
Any law firm SEO agency can share a bunch of fake clients they have ranked. All they need are screenshots because no SEO agency will share client invoices or project details.
But if you ask these questions, you can get an idea of whether the portfolio you're checking is fake or real.
Q1: What keywords did you target for this specific client?
Asking about keyword strategy gives you a solid ground to work with. This is because you'd check almost all the keywords they shared with you. For instance, if a law firm SEO agency says they ranked their client for 15 keywords a year ago. At least 60% of these keywords should still be on the first 2 pages of Google. If they aren't, your agency is probably playing you.
Q2: What's your content strategy?
Content is the heart of all lawyer SEO activities. Without a content strategy, ranking on SERPs is nearly impossible. The most common approach for ranking law firms is through the content cluster strategy. If your SEO agency talks about topical authority – run.
Gaining topical authority is not a common practice in the legal industry. This is because every legal proceeding is unique, and no agency can build topical authority on, let's say, "criminal defense." This is because legal cases are highly variable. Each proceeding is treated differently, and no amount of content can cover all of that.
Q3: How soon can you rank my business on Google's 1st page for "The best law firm in New York"?
This is a trick question because ranking "The best lawyer in New York" can take more than a year due to keyword competitiveness. So you're looking for a quick-witted answer from your lawyer SEO agency. If they say, they can rank your business in 6 months or even a year – Run!
1.     Do Some Digging
You don't have to take your lawyer SEO agency's word for it and trust their services. Doing some background study always helps in making the right choice. So go ahead and contact your agency's ex-clients and take their feedback.
You can ask your agency to share their client names or browse through their Google reviews. Make sure you ask at least two 1-star review clients about their experience and two 5-star reviews. This will keep a good balance between good and bad feedback.
2.     Ask For a Custom SEO Plan
Every business is different, and there's no shame in asking for a custom SEO plan for your law firm. This is because most agencies run with a one-size-fits-all approach which can be detrimental to your law firm.
The best law firm SEO agency will have all the necessary tools and experience to design a custom SEO plan. These agencies thrive on giving personalized packages and won't shy away from sharing their customized plan.
Asking for a custom SEO plan secures your business from outdated lawyer SEO approaches that don't work anymore. Plus, this question will ensure the agency you're hiring can handle your SEO from all angles.
Benefits of Local SEO For Law Firms
Every state has its ins and out, and hiring a local lawyer is what clients prefer. For this purpose, your potential customers are searching for a law firm in their state or area. This is one of the obvious benefits of local SEO for law firms. But if you dig deeper, there's more to local law firm SEO than what meets the eye.
Local SEO means better leads for law firms and other businesses that operate in a limited vicinity. Why? Because no one wants to hire a divorce attorney from California if they live in New York. This is because California divorce law differs from other states, and a non-resident lawyer will have a hard time during your proceeding.
On the other hand, local SEO for law firms involves website optimization and creating a strong GMB (Google my Business) profile. So besides leads, you'll also gain more credibility within your state through local SEO.
Maximizing Online Presence: Get Expert Local SEO Services for Law Firms
With Advertyzed's help, you can boost your law firm's online presence and gain more organic leads. Our transparent approach to work makes us stand out from the rest.
You'll be informed and involved every step of the way when you opt for our local SEO services for law firms.
We believe in giving dedicated support to each client. Hence you'll have a project manager available 24/7 to answer your queries and share keyword and ranking reports!